The following is the procedure for mounting the die cushion to the press bed:
(1) Remove the bolster plate and check both surfaces carefully to make sure they are flat and parallel. THIS IS IMPORTANT! If surfaces are bowed and not parallel, have them machined so that the pin pressure pad of the cushion will have an accurate surface to stop against.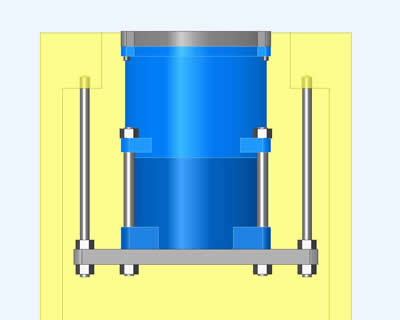 (2) Screw the ends of the suspension rods with the short length of thread into the drilled and tapped holes in the press bed, which have been provided for mounting the die cushion. Make sure these rods are pulled up as for as they will go into the tapped holes. If the cushion is to be suspended from mounting bosses that are not tapped, the mounting rods are provided with nuts on both top and bottom of the bosses.

(3) With the use of skids or timbers, slide the cushion unit into the approximate location relative to the press bed opening. (NOTE: If the distance between the mounting rods at the front of the press bed is not enough to allow the cushion to pass between them, it is advisable to leave them out until after the cushion has been placed under the press bed opening.)

(4) Run on the upper adjusting nuts as far as they will go. Raise the cushion unit so that the rods pass through the holes in the mounting plate or mounting channels and run on the lower adjusting nuts.

(5) Prepare a measuring rod from 3/16" round steel for adjusting the height and alignment of the cushion unit. The over-all length of this rod should be equal to the overall height of the cushion when expanded, plus the thickness of the pin pad minus 1/8". The 1/8" is allowed to make sure that the pin pressure pad comes to rest against the bottom of the bolster plate.

(6) With a large parallel laid on top of the press bed, line up the supporting structure at the four corners marked by using the measuring rod. The adjustment and alignment of the mounting plate at these four points must be held to a maximum tolerance of 1/64" to avoid a tilting action. After this adjustment is obtained, lock the upper adjusting nuts on the mounting plate, which will secure the cushion unit in correct parallel alignment and relative height in connection with the top of the press.